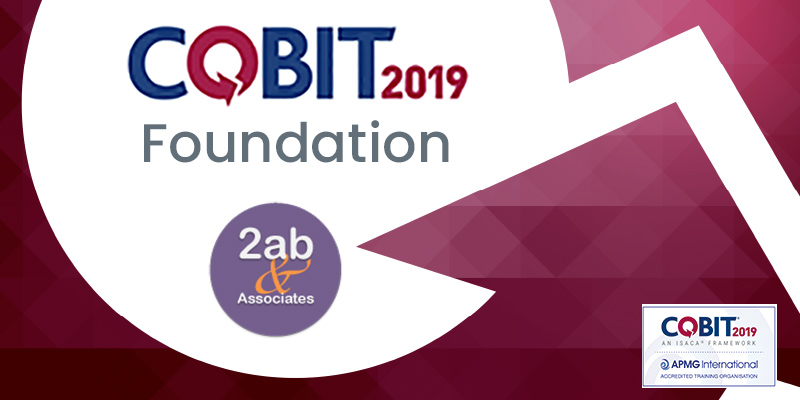 Accredited training course (ISACA) & certification exam
The just-released COBIT 2019 is the best COBIT yet, featuring many positive changes including modified principles, new design factors, updated goals cascade, modified processes (from 37 to 40), updated performance management, new detailed governance and management objectives. The COBIT 2019 Foundation course provides the ideal introduction to COBIT and provides full preparation for the Foundation Certificate exam.
This session can be delivered in a 2-day or a 3-day session. The standard format is a 3-day classroom session.
The accelerated path on 2 days put the focus on the concepts with less exercises and case studies. It is appropriate for peole with an existing knowledge of IT Governance.


The session COBIT® 2019 Foundation (ISACA®) is aimed to any stakeholder with responsibilities for the governance and management of enterprise information and technology, including :
Executives
Business managers
IT/IS auditors
Assurance
Information security managers
IT/IS practitioners

CIO
Consultants
IT managers
The COBIT 2019 Foundation certificate is the mandatory entry point for everybody interested in obtaining the COBIT 2019 Design & Implementation certificate.
There are no formal prerequisites. However, it is recommended that participants have experience in the IT governance domain.
At the conclusion of this course, attendees will understand:
Recognize the context, benefits and key reasons COBIT is used as an information and technology governance framework.
Explain the key attributes of the COBIT framework

Key attributes
Product family
Alignment with industry frameworks

Compare the COBIT principles for governance system framework.
Describe the components of a governance system:

Governance and management objectives (see 5 below)
Components of the governance system
Focus areas
Design factors
Goals cascade

Describe the elements of governance and management objectives.
Differentiate COBIT based performance management using maturity and capability perspectives.
Discover how to design a tailored governance system using COBIT.
Explain the key points of the COBIT business case.
Describe the relationships between the COBIT Design and Implementation Guides.
Prepare for the COBIT 2019 Foundation exam.
Welcome & Introduction
Framework introduction
Enterprise Governance of I&T (EGIT)
COBIT as an I&T Framework
Intended Audience for the COBIT 2019 Framework
COBIT format and product architecture
Major differences between COBIT 5 and COBIT 2019
COBIT and other standards
Training and certification
Module sample questions
Principles
Introduction to principles
Governance "system" principles
Governance "framework" principles
Module sample questions
Governance system & components
Governance and management objectives
Components of the governance system
Focus areas
Design factors
Goals cascade
Module sample questions
Governance and management objectives
Overview of the COBIT core model
Module sample questions
Performance management
Performance management definition and principles
Performance management overview
Capability vs Maturity levels
Managing performance of processes
Managing performance of other governance system components
Module sample questions
Designing a Tailored Governance System
Impact of design factors
Designing a tailored system
Module sample questions
Business case
Introduction to the COBIT Business Case
Module sample questions
Implementing Enterprise Governance Over IT
Implementation guide purpose and approach
Design Guide and Implementation Guide relationships
Module sample questions
Closing and questions
The official COBIT 2019 Foundation exam is included in our training package. Online Exam After Course – Voucher provided at course completion
The exam is an online proctored and is designed to test the learner's knowledge of the COBIT framework as opposed to memorization and tied to the learning objectives of the course. The exam will be an online proctored exam administered through ISCA portal. The exam format will include:
75 questions
Multiple choice
120 minutes
One correct answer for each question, using three choices (A, B or C)
Pass rate is 65% or higher
Upon successfully achieving the COBIT 2019 Foundation certificate, the student will be recognized with 14 Professional Development Units (PDU'S).
The exam is only available in English.
The COBIT 2019 Foundation certificate is prerequisite for all other COBIT 2019 exams including the COBIT 2019 Design & Implementation certificate.


Alain BONNEAUD
CISA® - CISM® - CGEIT® - COBIT® - ISO 27001 - ITIL® - PRINCE2® - RESILIA® - VeriSM™ - ISO 20000 - DevOps


Patrick SOENEN
CGEIT® - CRISC™ - COBIT® - ISO 27001 - Audit


David HENRARD
CISA® - CISM® - CGEIT® - CRISC™ - COBIT® - ISO 27001 - ISO 27005 - Privacy & Data Protection - ISACA Cybersecurity Audit
The following terms and conditions apply for bookings :
the session is led by a trainer accredited by ISACA/APMG on the COBIT 2019 domain,
personalized welcome in the classroom with mineral water and breaks ,
accredited training material,
the offical ISACA publication: COBIT 2019 Framework - Introduction & Methodology (electronic document),
the official ISACA publication: COBIT® 2019 Framework - Governance and Management Objectives (electronic document),
exam preparation,
a group of 10 participants max. in order to ensure the quality of the training delivery.
Participants to our courses will receive an exam voucher to take the COBIT 2019 Foundation Certificate exam. To redeem your voucher, you will need to:
Sign in the ISCA online portal
Test the hardware and software required to take the exam
Schedule the exam date and time
Complete the exam
Course fees must be paid at least 10 working days prior to the commencement of the course in order to guarantee your place. We accept payment by Direct Debit, credit cards, paypal or bank transfers. Payment made by credit card will incur the following charges – MasterCard (1.5%), Visa (1.5%) American Express (3.0%).