CGEIT® - CRISC™ - COBIT® - ISO 27001 - Audit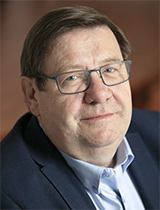 Patrick Soenen has more than 30 years experience in a wide range of IT related services in many across different industries such as finance, public administration, healthcare, services, transportation and SMEs.
Patrick performed various assignments, such as IT and internal audit, project evaluations, GDPR assessments, organisational change management, internal control system and IT Governance implementation and risk management. He holds the CGEIT, CRISC, COBIT 2019, ITIL and ISO 27001 Certifications. He also is a Chartered Corporate Governance Director,a board member at the Institute for Fraud Auditors and acts as the GDPR expert for the IIA (IFACI) in France.
For more than 10 years, Patrick has been trainer in IT topics, IT audit, security and privacy matters and is accredited for the COBIT trainings.
Back to OUR TEAM >