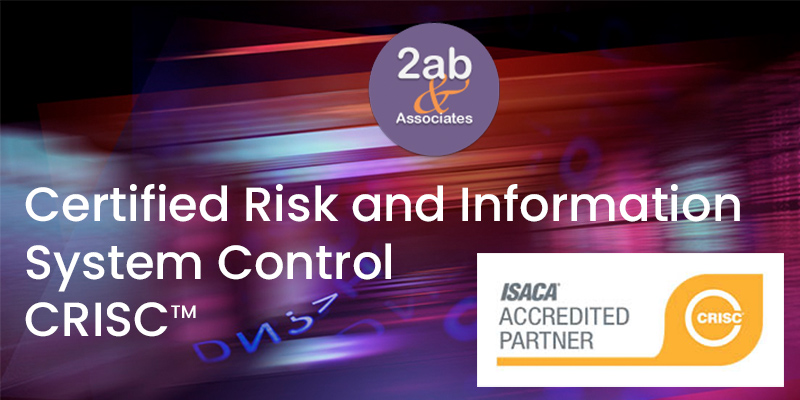 Accredited CRISC™ prep training course (ISACA) - 4 days
CRISC is the only certification that prepares and enables IT professionals for the unique challenges of IT and enterprise risk management, and positions them to become strategic partners to the enterprise. Established in 2010, it has already been earned by nearly 17,000 professionals worldwide and was named Gold Winner for Best Professional Certification Program at the SC Magazine 2013 Awards.
The CRISC Exam Preparation course is an intensive, four-day review program to prepare individuals who are planning to sit for the Certified in Risk and Information System Controls (CRISC) exam. The course focuses on the key points covered in the CRISC Review Manual 6th Edition and includes class lectures, group discussions, exam practice and answer debriefs. The course is intended for individuals with familiarity with and experience in IT and enterprise risk management.
The session CRISC prep training course (ISACA®) is aimed to CRISC Exam candidates who have at least 5 years of Risk Management experience.
It is recommended that participants have a previous experience of at least 3-5 years in Risk Management.
At the conclusion of this course, attendees will:
Learn the specific requirements for passing the CRISC Exam and attaining your certification
Review key concepts, tasks and knowledge related to the duties of a risk practitioner, which serve as the foundation of the CRISC Exam
Learn successful methods of "how to" evaluate Exam questions and answers, including analysis and explanations
Review useful, proven information on study and exam time management
Complete and review a mock exam, including answers and explanations
Welcome & Introduction
General Information About the Exam
About the CRISC Exam
Answering Questions
Exam Scoring
Certification Steps
Example Questions
Domain 1: IT Risk Identification
Collect and review information, including existing documentation, regarding the organization's internal and external business and IT environments to identify potential impacts of IT risk to the organization's business objectives and operations.
Identify potential threats and vulnerabilities to the organization's people, processes and technology to enable IT risk analysis.
Develop a comprehensive set of IT risk scenarios based on available information to determine the potential impact to business objectives and operations.
Identify key stakeholders for IT risk scenarios to help establish accountability.
Establish an IT risk register to help ensure that identified IT risk scenarios are accounted for and incorporated into the enterprisewide risk profile.
Identify risk appetite and tolerance defined by senior leadership and key stakeholders to ensure alignment with business objectives.
Collaborate in the development of a risk awareness program, and conduct training to ensure that stakeholders understand risk and to promote a risk-aware culture.
Module sample questions
Domain 2: IT Risk Assessment
Analyze risk scenarios based on organizational criteria (e.g., organizational structure, policies, standards, technology, architecture, controls) to determine the likelihood and impact of an identified risk.
Identify the current state of existing controls and evaluate their effectiveness for IT risk mitigation.
Review the results of risk and control analysis to assess any gaps between current and desired states of the IT risk environment.
Ensure that risk ownership is assigned at the appropriate level to establish clear lines of accountability.
Communicate the results of risk assessments to senior management and appropriate stakeholders to enable risk-based decision making.
Update the risk register with the results of the risk assessment
Module sample questions
Domain 3: Risk Response and Mitigation
Consult with risk owners to select and align recommended risk responses with business objectives and enable informed risk decisions.
Consult with, or assist, risk owners on the development of risk action plans to ensure that plans include key elements (e.g., response, cost, target date).
Consult on the design and implementation or adjustment of mitigating controls to ensure that the risk is managed to an acceptable level.
Ensure that control ownership is assigned in order to establish clear lines of accountability.
Assist control owners in developing control procedures and documentation to enable efficient and effective control execution.
Update the risk register to reflect changes in risk and management's risk response.
Validate that risk responses have been executed according to the risk action plans.
Module sample questions
Domain 4: Risk and Control Monitoring and Reporting
Define and establish key risk indicators (KRIs) and thresholds based on available data, to enable monitoring of changes in risk.
Monitor and analyze key risk indicators (KRIs) to identify changes or trends in the IT risk profile.
Report on changes or trends related to the IT risk profile to assist management and relevant stakeholders in decision making.
Facilitate the identification of metrics and key performance indicators (KPIs) to enable the measurement of control performance.
Monitor and analyze key performance indicators (KPIs) to identify changes or trends related to the control environment and determine the efficiency and effectiveness of controls.
Review the results of control assessments to determine the effectiveness of the control environment.
Report on the performance of, changes to, or trends in the overall risk profile and control environment to relevant stakeholders to enable decision making.
Module sample questions
Examination Administration and Techniques
Examination Administration
Examination Techniques
Frequently Asked Questions
Practice Exam
Closing and questions
The CRISC Exam is NOT included in the course fees. You must register directly with ISACA® The CRISC exam is set, conducted and marked by ISACA. All exams will be conducted online via computer-based testing centers around the world.
Exam vouchers via 2AB & Associates
You can book your CRISC exam direct with ISACA (see below) or else you can purchase an exam voucher via 2AB & Associates (we are an ISACA Accredited Channel Partner) and have both course and exam on the one invoice.
If you want to purchase via 2AB & Associates please make sure, when making your online registration, that you indicate "CRISC Course + Exam" in the COMMENTS field and that you choose the PAY BY INVOICE option (do not select the PAY BY CARD option).
The voucher will be issued to you at the end of the course together with full instructions as to how to register for the exam. Please note that the actual exam registration is done direct with ISACA using the voucher code issued to you.
For more information and to register for an ISACA exam, please refer to the exams page on the ISACA website: https://www.isaca.org/certification/pages/exam-registration.aspx
Check the exam schedule: https://isacaavailability.psiexams.com/
The following terms and conditions apply for bookings :
The session is led by a trainer accredited by ISACA,
Personalized welcome in the classroom with mineral water, breaks and lunches,
Accredited training material composed of the electronic versions of :

The CRISC Review Manual 6th Edition,
QAE Database 12-month subscription,
Copy of the slides used during the session,
Sample CRISC exam.

Exam preparation,
A group of 10 participants max. in order to ensure the quality of the training delivery.
Participants are eligible to receive an exam voucher to take the CRISC exam (Optional).
Course fees must be paid at least 10 working days prior to the commencement of the course in order to guarantee your place. We accept payment by Direct Debit, credit cards, paypal or bank transfers. Payment made by credit card will incur the following charges – MasterCard (1.5%), Visa (1.5%) American Express (3.0%).