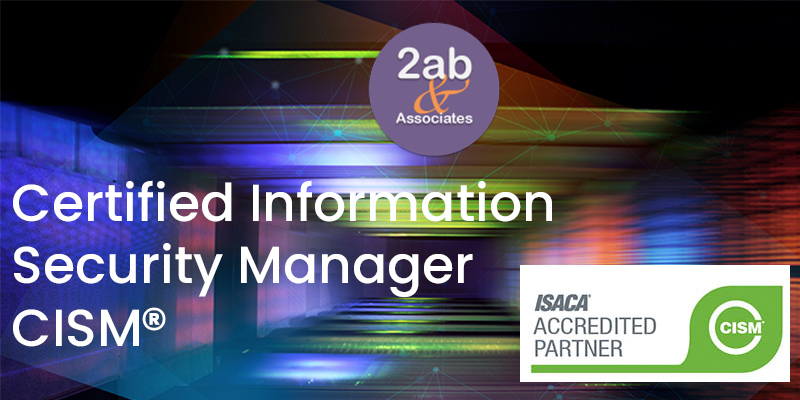 Accredited CISM® prep training course (ISACA) - 4 days
CISM is one of the most important infosec qualifications in the world today. CISM defines the core competencies and international standards of performance that information security managers are expected to master. It provides executive management with the assurance that CISM holders have the experience and knowledge to offer effective security management and advice. This course provides an intense environment in which participants can acquire the skills and knowledge expected of a world-class information security manager.
The CISM Exam Preparation course is an intensive, four-day review program to prepare individuals who are planning to sit for the Certified Information Security Manager (CISM) exam. The course focuses on the key points covered in the CISM Review Manual 15th Edition and includes class lectures, group discussions/activities, exam practice and answer debriefs. The course is intended for individuals with familiarity with and experience in information security management, certification, the candidate must meet the necessary experience requirements determined by ISACA.
The CISM prep training course (ISACA®) is aimed to CISM Exam candidates who have at least 5 years of Information Security experience.
It is recommended that participants have a previous experience of at least 3-5 years in Information Security.
At the conclusion of this course, attendees will understand:
The specific requirements for passing the CISM Exam and attaining your certification,
Key concepts, tasks and knowledge related to the duties of an information security manager, which serve as the foundation of the CISM Exam,
Successful methods evaluating exam questions and answers, including analysis and explanations,
Useful, proven information on study and exam time management.
Welcome & Introduction
General Information About the Exam
About the CISM Exam
Answering Questions
Exam Scoring
Certification Steps
Example Questions
Domain 1: Information Security Governance
Designing a strategy and governance framework
Gaining management support and approval
Implementing the security strategy
Module sample questions
Domain 2: Information Risk Management
Risk identification
Risk analysis and treatment
Risk monitoring and reporting
Module sample questions
Domain 3: Information Security Program Development and Management
Alignment and resource management
Standards, awareness and training
Building security into processes and practices
Security monitoring and reporting
Module sample questions
Domain 4: Information Security Incident Management
Planning and integration
Readiness and assessment
Identification and response
Module sample questions
Examination Administration and Techniques
Examination Administration
Examination Techniques
Frequently Asked Questions
Sample exam
Closing and questions
The CISM Exam is NOT included in the course fees. You must register directly with ISACA® The CISM exam is set, conducted and marked by ISACA. All exams will be conducted online via computer-based testing centers around the world.
Exam vouchers via 2AB & Associates
You can book your CRISC exam direct with ISACA (see below) or else you can purchase an exam voucher via 2AB & Associates (we are an ISACA Accredited Channel Partner) and have both course and exam on the one invoice.
If you want to purchase via 2AB & Associates please make sure, when making your online registration, that you indicate "CRISC Course + Exam" in the COMMENTS field and that you choose the PAY BY INVOICE option (do not select the PAY BY CARD option).
The voucher will be issued to you at the end of the course together with full instructions as to how to register for the exam. Please note that the actual exam registration is done direct with ISACA using the voucher code issued to you.
For more information and to register for an ISACA exam, please refer to the exams page on the ISACA website: https://www.isaca.org/certification/pages/exam-registration.aspx
Check the exam schedule: https://isacaavailability.psiexams.com/


Alain BONNEAUD
CISA® - CISM® - CGEIT® - COBIT® - ISO 27001 - ITIL® - PRINCE2® - RESILIA® - VeriSM™ - ISO 20000 - DevOps


David HENRARD
CISA® - CISM® - CGEIT® - CRISC™ - COBIT® - ISO 27001 - ISO 27005 - Privacy & Data Protection - ISACA Cybersecurity Audit
The following terms and conditions apply for bookings :
The session is led by a trainer accredited by ISACA,
Personalized welcome in the classroom with mineral water, breaks and lunches,
Accredited training material composed of the electronic versions of :

The Certified Information Security Manager (CISM 15th Edition) 2020 Exam Review Manual,
QAE Database 12-month subscription,
A printed copy of the slides used during the session,
Sample CISM exam.

Exam preparation,
A group of 10 participants max. in order to ensure the quality of the training delivery.
Participants are eligible to receive an exam voucher to take the CISM exam (Optional).
Course fees must be paid at least 10 working days prior to the commencement of the course in order to guarantee your place. We accept payment by Direct Debit, credit cards, paypal or bank transfers. Payment made by credit card will incur the following charges – MasterCard (1.5%), Visa (1.5%) American Express (3.0%).