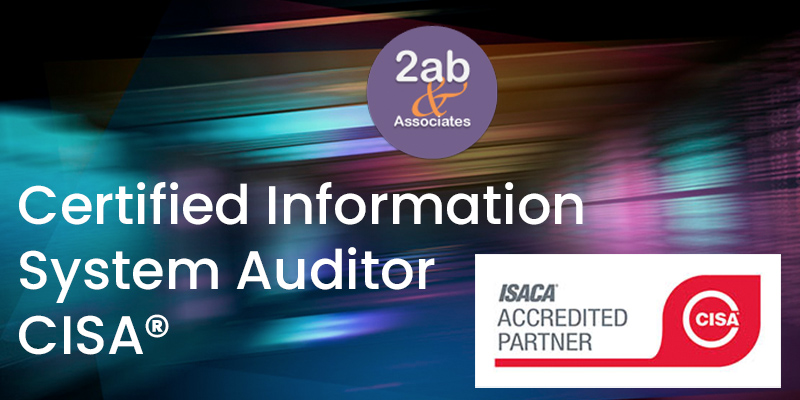 Accredited CISA® prep training course (ISACA) - 5 days
Since 1978, the ISACA® Certified Information Systems Auditor (CISA) program, has been the globally accepted standard of achievement among information systems (IS) audit, control and security professionals. The technical skills and practices that CISA promotes and evaluates are the building blocks of success in the field. This course provides an intense environment in which participants can acquire the skills and knowledge expected of a world-class information systems audit, control and security professional.
The CISA prep training course (ISACA®) is aimed to CISA Exam candidates who have at least 5 years of front-line with the Information System Audit.
It is recommended that participants have a previous experience in the Information System Audit.
At the conclusion of this course, attendees will understand:
The specific requirements for passing the CISA exam and attaining your certification
Successful methods of evaluating exam questions and answers, including analysis and explanations
Key concepts, tasks and knowledge statements related to the duties of an IS auditor, which serve as the foundation of the CISA exam and align with the following domains:

The Process of Auditing Information Systems
Governance and Management of IT
Information Systems Acquisition, Development and Implementation
Information Systems Operations, Maintenance and Service Management
Protection of Information Assets
Welcome & Introduction
Achieving the CISA Exam
Certification Prerequisites
About the CISA Exam
Answering Questions
Exam Scoring
Certification Steps
Example Questions
Domain 1: The Process of Auditing Information Systems
Planning

IS Audit Standards, Guidelines and Codes of Ethics
Business Processes
Types of Controls
Risk-based Audit Planning
Types of Audits and Assessments

Execution

Audit Project Management
Sampling Methodology
Audit Evidence Collection Techniques
Data Analytics
Reporting and Communication Techniques
Quality Assurance and Improvement of the Audit Process

Module sample questions
Domain 2: Governance and Management of IT
IT Governance and IT Strategy

IT-related Frameworks
IT Standards, Policies and Procedures
Organizational Structure
Enterprise Architecture
Enterprise Risk Management
Maturity Models
Laws, Regulations and Industry Standards Affecting the Organization

IT Management

IT Resource Management
IT Service Provider Acquisition and Management
IT Performance Monitoring and Reporting
Quality Assurance and Quality Management of IT

Module sample questions
Domain 3: Information Systems Acquisition, Development and Implementation
Information Systems Acquisition and Development

Project Governance and Management
Business Case and Feasibility Analysis
System Development Methodologies
Control Identification and Design

Information Systems Implementation

Testing Methodologies
Configuration and Release Management
System Migration, Infrastructure Deployment and Data Conversion
Post-implementation Review

Module sample questions
Domain 4: IS Operations and Business Resilience
Information Systems Operations

Common Technology Components
IT Asset Management
Job Scheduling and Production Process Automation
System Interfaces
End-user Computing
Data Governance
Systems Performance Management
Problem and Incident Management
Change, Configuration, Release and Patch Management
IT Service Level Management
Database Management

Business Resilience

Business Impact Analysis
System Resiliency
Data Backup, Storage and Restoration
Business Continuity Plan
Disaster Recovery Plans

Module sample questions
Domain 5: Information Asset Security and Control
Information Asset Security Frameworks, Standards and Guidelines

Privacy Principles
Physical Access and Environmental Controls
Identity and Access Management
Network and End-point Security
Data Classification
Data Encryption and Encryption-related Techniques
Public Key Infrastructure
Web-based Communication Technologies
Virtualized Environments
Mobile, Wireless and Internet-of-things Devices

Security Event Management

Security Awareness Training and Programs
Information System Attack Methods and Techniques
Security Testing Tools and Techniques
Security Monitoring Tools and Techniques
Incident Response Management
Evidence Collection and Forensics

Module sample questions
Examination Administration and Techniques
Examination Administration
Examination Techniques
Frequently Asked Questions
Sample Exam
Closing and questions
The CISA Exam is NOT included in the course fees. You must register directly with ISACA® The CISA exam is set, conducted and marked by ISACA. All exams will be conduced online via computer-based testing centers around the world.
Exam vouchers via 2AB & Associates
You can book your CRISC exam direct with ISACA (see below) or else you can purchase an exam voucher via 2AB & Associates (we are an ISACA Accredited Channel Partner) and have both course and exam on the one invoice.
If you want to purchase via 2AB & Associates please make sure, when making your online registration, that you indicate "CRISC Course + Exam" in the COMMENTS field and that you choose the PAY BY INVOICE option (do not select the PAY BY CARD option).
The voucher will be issued to you at the end of the course together with full instructions as to how to register for the exam. Please note that the actual exam registration is done direct with ISACA using the voucher code issued to you.
For more information and to register for an ISACA exam, please refer to the exams page on the ISACA website: https://www.isaca.org/certification/pages/exam-registration.aspx
Check the exam schedule: https://isacaavailability.psiexams.com/


Alain BONNEAUD
CISA® - CISM® - CGEIT® - COBIT® - ISO 27001 - ITIL® - PRINCE2® - RESILIA® - VeriSM™ - ISO 20000 - DevOps


David HENRARD
CISA® - CISM® - CGEIT® - CRISC™ - COBIT® - ISO 27001 - ISO 27005 - Privacy & Data Protection - ISACA Cybersecurity Audit
The following terms and conditions apply for bookings :
The session is led by a trainer accredited by ISACA,
Personalized welcome in the classroom with mineral water, breaks and lunches,
Accredited training material composed of the electronic versions of :

The Certified Information Systems Auditor (CISA 2019) CISA Review Manual 27h Edition,
QAE Database 12-month subscription,
A printed copy of the slides used during the session,
Sample CISA exam.

Exam preparation,
A group of 10 participants max. in order to ensure the quality of the training delivery.
Participants are eligible to receive an exam voucher to take the CISA exam (Optional).
Course fees must be paid at least 10 working days prior to the commencement of the course in order to guarantee your place. We accept payment by Direct Debit, credit cards, paypal or bank transfers. Payment made by credit card will incur the following charges – MasterCard (1.5%), Visa (1.5%) American Express (3.0%).