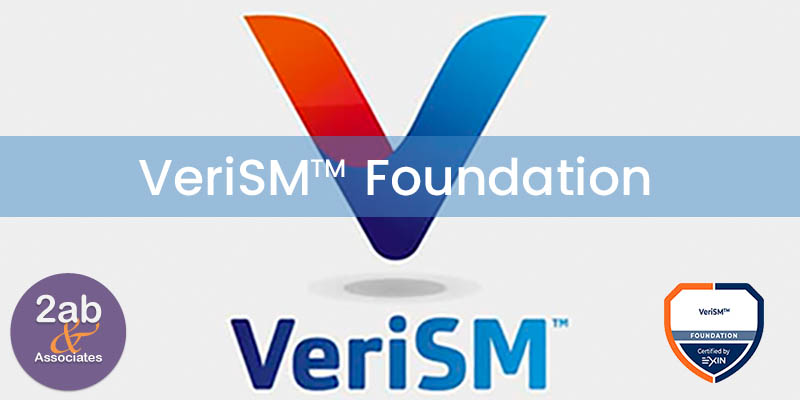 Accredited Training Course and exam (EXIN) in only 3 days
VeriSM™ is a service management approach that helps service providers to create a flexible operating model to meet desired business outcomes. It describes how an organization can define its service management principles and then use organizational capabilities, emerging technologies and a combination of management practices to deliver value.
This intensive 3-day course builds the fundamental skills and knowledge enabling individuals to participate in a service organization and to deliver value to the consumer. At the end of the course, participants will take the 60-minute exam to obtain the international qualification VeriSM™ Foundation.


The target group consists of all professionals and organizations involved in delivering value to customers through the development, delivery, operation and/or promotion of services. VeriSM™ Foundation proves to be useful both for professionals at the very start of their service management career and for experienced professionals who need access to a simple service management approach.
This certification is essential for anyone who works with products and services and will be of particular interest to:
Graduates and undergraduates – who will be joining organizations and who need to understand the principles of service management,
Everyone within a service organization, in particular:

Managers – who want to understand how to leverage evolving management practices,
Service owners and service managers – who need to bring their skills up to date and understand how service management has changed,
Executives – who are accountable for effective service delivery,
IT professionals - who need to understand the impact of evolving management practices and new technologies on their role.
There is no pre-requisite for the foundation qualification but an interest and/or background in service management would be an advantage.
The VeriSM™ Foundation certification validates a professional's knowledge about:
The service organization,
Service culture,
People and organizational structure,
The VeriSM™ model,
Progressive practices,
Innovative technologies,
Getting started.
Welcome & Introduction
Module 1: The Service Organization (10%)
Organizational Context
Organizational Governance
Digital Transformation
Module 2: Service Culture (5%)
Module 3: People and Organizational Structure (20%)
Organization Structure
Service Management Challenges
Module 4: The VeriSM™ Model (32,5%)
The VeriSM™ Model
Adapting the VeriSM™ Model
Module 5: Progressive Practices (20%)
Module 6: Innovative technologies (10%)
Module 7: Getting started (2,5%)
Exam preparation
FAQ about the exam
Practice exam and group review
Official VeriSM™ Foundation Online Exam
Closing & Questions
The official VeriSM™ Foundation is included in the package.
The exam consists of 40 multiple-choice questions which cover all 7 areas of the syllabus. Each question is worth 1 point
Styles of question: selection of the correct answer from a choice of 3 or 4 options
Number of questions : 40
Time allotted for examination:: 60 minutes
Pass mark: 65% (26 out of 40)
Exam type: Closed book and no electronic equipment/aides permitted


Alain BONNEAUD
CISA® - CISM® - CGEIT® - COBIT® - ISO 27001 - ITIL® - PRINCE2® - RESILIA® - VeriSM™ - ISO 20000 - DevOps
The following terms and conditions apply for bookings:
the session is led by a trainer accredited on VeriSM™,
personalized welcome in the classroom with mineral water and breaks ,
accredited training material,
exam preparation,
online exam : VeriSM™ Foundation exam
2AB & Associates Participation Certificate
a group of 10 participants max. in order to ensure the quality of the training delivery.
Course fees must be paid at least 10 working days prior to the commencement of the course in order to guarantee your place. We accept payment by Direct Debit, credit cards, paypal or bank transfers. Payment made by credit card will incur the following charges – MasterCard (1.5%), Visa (1.5%) American Express (3.0%).