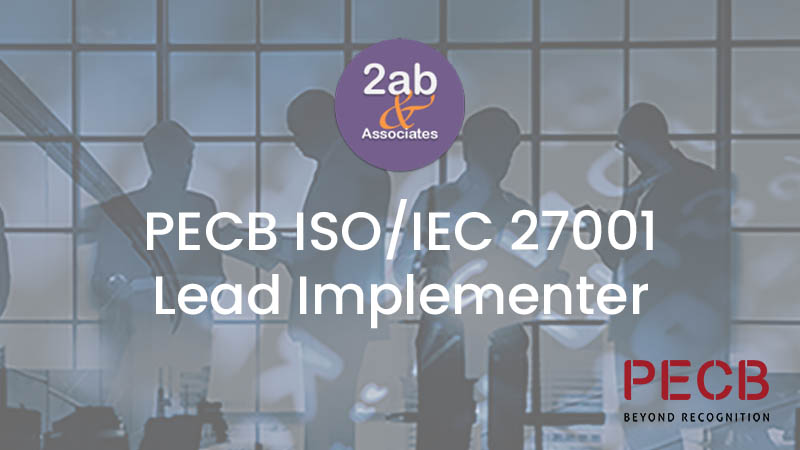 Accredited Training Course and Exam in only 5 Days
During this training course, you will also gain a thorough understanding of the best practices of Information Security Management Systems to secure the organization`s sensitive information and improve the overall performance and effectiveness.
After mastering all the necessary concepts of Information Security Management Systems, you can sit for the exam and apply for a "PECB Certified ISO/IEC 27001 Lead Implementer" credential. By holding a PECB Lead Implementer Certificate, you will be able to demonstrate that you have the practical knowledge and professional capabilities to implement ISO/IEC 27001 in an organization.
The session PECB ISO 27001 Lead Implementer (5 Days) is designed for:
Managers or consultants involved in Information Security Management
Expert advisors seeking to master the implementation of an Information Security Management System
Individuals responsible for maintaining conformance with ISMS requirements
ISMS team members
There are no prerequisites for this course, although basic Security knowledge will be helpful.
Acknowledge the correlation between ISO/IEC 27001, ISO/IEC 27002 and other standards and regulatory frameworks
Master the concepts, approaches, methods and techniques used for the implementation and effective management of an ISMS
Learn how to interpret the ISO/IEC 27001 requirements in the specific context of an organization
Learn how to support an organization to effectively plan, implement, manage, monitor and maintain an ISMS
Acquire the expertise to advise an organization in implementing Information Security Management System best practices
Day 1: Introduction to ISO/IEC 27001 and initiation of an ISMS
Welcome & Introduction
Course objectives and structure
Standards and regulatory frameworks
Information Security Management System (ISMS)
Fundamental principles of Information Security Management Systems
Initiating the implementation of an ISMS
Understanding the organization and clarifying the Information Security objectives
Analysis of the existing management system
Day 2: Plan the implementation of an ISMS
Leadership and approval of the ISMS project
ISMS scope
Information Security policies
Risk assessment
Statement of Applicability and top management`s decision to implement the ISMS
Definition of the organizational structure of Information Security
Day 3: Implementation of an ISMS
Definition of the document management process
Design of security controls and drafting of specific policies & procedures
Communication plan
Training and awareness plan
Implementation of security controls
Incident Management
Operations Management
Day 4: ISMS monitoring, measurement, continuous improvement and preparation for a certification audit
Monitoring, measurement, analysis and evaluation
Internal audit
Management review
Treatment of non-conformities
Continual improvement
Preparing for the certification audit
Competence and evaluation of implementers
Closing & Questions
Day 5: Certification Exam
The official PECB ISO/IEC 27001 Lead Implementer exam is included in the package. It consists of a 3 hours essay examination and covers the following competency domains :
Domain 1: Fundamental principles and concepts of an Information Security Management System (ISMS)
Domain 2: Information Security Management System controls and best practices based on ISO/IEC 27002
Domain 3: Planning an ISMS implementation based on ISO/IEC 27001
Domain 4: Implementing an ISMS based on ISO/IEC 27001
Domain 5: Performance evaluation, monitoring and measurement of an ISMS based on ISO/IEC 27001
Domain 6: Continual improvement of an ISMS based on ISO/IEC 27001
Domain 7: Preparing for an ISMS certification audit


Alain BONNEAUD
CISA® - CISM® - CGEIT® - COBIT® - ISO 27001 - ITIL® - PRINCE2® - RESILIA® - VeriSM™ - ISO 20000 - DevOps
The following terms and conditions apply for bookings:
the session is led by a trainer accredited by PECB on the ISO 27001 Standard,
personalized welcome in the classroom with mineral water and breaks,
training material containing over 450 pages of information and practical examples will be distributed,
exam preparation,
PECB ISO/IEC 27001 Lead Implementer exam,
2AB & Associates Participation Certificate,
a participation certificate of 31 CPD (Continuing Professional Development) credits will be issued by PECB,
In case of exam failure, you can retake the exam within 12 months for free,
Certification fees are included on the exam price,
a group of 10 participants max. in order to ensure the quality of the training delivery.
Course fees must be paid at least 10 working days prior to the commencement of the course in order to guarantee your place. We accept payment by Direct Debit, credit cards, paypal or bank transfers. Payment made by credit card will incur the following charges – MasterCard (1.5%), Visa (1.5%) American Express (3.0%).