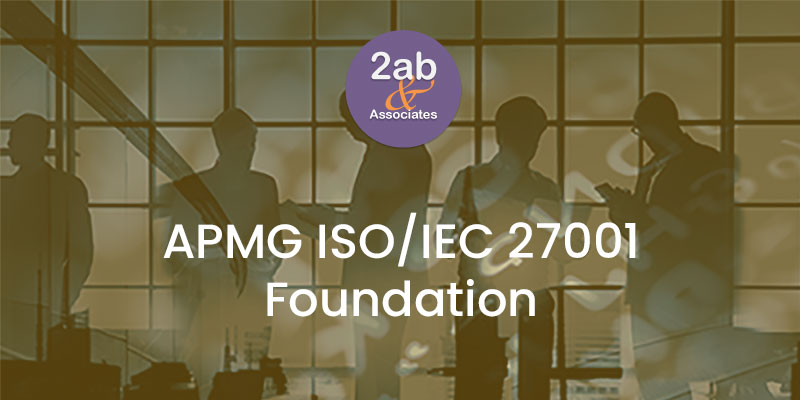 Accredited Training Course and exam (APMG) in only 3 days
Without a formal Information Security Management System (ISMS), Organizations are vulnerable and may have difficulty meeting their goals and protecting their information assets. ISO / IEC 27001 is the foundation of information security management and applies to any type of organization. ISO / IEC 27001 provides a reliable framework for protecting your information against cybercrime, improving corporate governance, and recovering from security incidents.
This intensive 3-day course provides a good understanding of the ISO / IEC 27001 information security management framework, basic concepts, benefits and considerations related to setting up an Information Security Management System (ISMS). At the end of the course, participants will take the 40-minute exam to obtain the international qualification APMG ISO / IEC 27001 Foundation Certificate.


The session ISO 27001 Foundation (3 Days) (APMG) is mainly aimed to professionals involved in Information Security Management :
Working to implement or maintain an ISMS within an organization,
Required to audit an ISMS and are required to have a basic understanding of the standard,
Working within an organization with an ISMS, whether the organization is already certified or is considering certification to ISO/IEC 27001.
This course and the APMG ISO 27001 Foundation Certificate (exam taken at the end of the session) are the mandatory entry point for any person wanting to obtain the APMG ISO/IEC 27001 Practitioner Certificate.
There is no pre-requisite for the foundation qualification but an interest and/or background in information security or service management would be an advantage.
The candidate should understand the scope, objectives, key terminology and high level requirements of the ISO/IEC 27001 standard, how it is used in an organization for information security, together with the main elements of the certification process.
Specifically, the candidate should understand:
The scope and purpose of ISO/IEC 27001 and how it can be used
The key terms and definitions used in ISO/IEC 27001
The fundamental requirements for an ISMS in ISO/IEC 27001 and the need for continual improvement
The processes, their objectives and high level requirements
Applicability and scope definition requirements
Use of controls to mitigate IS risks
The purpose of internal audits and external certification audits, their operation and the associated terminology
The relationship with best practices and with other related International Standards: ISO 9001 and ISO/IEC 20000.
Welcome & Introduction
Module 1: Introduction, background and definitions
Module 2: Key publications
Module 3: Leadership and support of the ISMS
Module 4: Planning and operation of the ISMS (part 1)
Module 5: Planning and operation of the ISMS (part 2)
Module 6: Information security control objectives and controls
Exam preparation
FAQ about the exam
Practice exam and group review
Official APM ISO/IEC 27001 Foundation Online Exam
Closing & Questions
The official APMG ISO/IEC 27001 Foundation exam is included in the package.
The exam consists of 50 multiple-choice questions which cover all 5 areas of the ISO/IEC 27001 Foundation syllabus. Each question is worth 1 point
Styles of question: selection of the correct answer from a choice of 4 options
Exam duration: 40 minutes
Pass mark: 50% (25/50)
Exam type: Closed Book


Alain BONNEAUD
CISA® - CISM® - CGEIT® - COBIT® - ISO 27001 - ITIL® - PRINCE2® - RESILIA® - VeriSM™ - ISO 20000 - DevOps
The following terms and conditions apply for bookings:
the session is led by a trainer accredited by APMG on ISO/IEC 27001,
personalized welcome in the classroom with mineral water and breaks ,
accredited training material,
exam preparation,
online exam : APMG ISO/IEC 27001 Foundation exam
2AB & Associates Participation Certificate
2AB & Associates, accredited APMG ATO, official certificate will be issued to participants
a group of 10 participants max. in order to ensure the quality of the training delivery.
Course fees must be paid at least 10 working days prior to the commencement of the course in order to guarantee your place. We accept payment by Direct Debit, credit cards, paypal or bank transfers. Payment made by credit card will incur the following charges – MasterCard (1.5%), Visa (1.5%) American Express (3.0%).